Who knew? A quiet movement has begun in the resurgence of handcrafted letterpress printing. Mixing politics, feminism and current affairs with creative, optimistic and often downright daring greeting card messaging, a network of women-owned businesses has become the voice of the small-shop typography trade.
When Paper Source, a national stationery chain, filed for Chapter 11 bankruptcy, the network sprang into action, a virtual social media David fired at the Goliath company which had just informed about 250 manufacturers of cards that they might not be paid in full for their recent deliveries of finished goods. Adding insult to injury is the perception among the network that Paper Source had placed unusually large orders with these small independent print shops long before spring break. They believe that Paper Source's management would have, or at least should have, known that all payments on these orders would be suspended during the bankruptcy proceedings. Even more annoying, according to some of the card makers, Paper Source pushed aggressively for expedited deliveries, ostensibly to avoid priority given in bankruptcy to supplier payments due for products delivered within 20 days immediately prior to filing. balance sheet.
The first snap was thrown at Paper Source by the owner of Sapling Press, a Pittsburgh letterpress printing company, when she posted "Hell ain't got no fury like stationery despised" on Instagram. It sparked an outpouring of equally angry responses and messages of support from the network, including the owners of Chez Gagne, The Card Bureau, Steel Petal Press, Power & Light Press and Chateau Blanche Design, among others. The network's vitriol is directed at the CEO of Paper Source, an accomplished woman with ivy league credentials and board-level experience in high fashion and retail. The CEO now confronts an angry group of female entrepreneurs, micro-business owners, who feel betrayed and exploited by big business which is, in better times, an important distribution channel for their printed products.
The large orders, some of which came after months of inactivity, were welcomed as a sign of hope, a return to normal after a particularly difficult year. Several card makers received their very first offerings from Paper Source around this time, a certain signal that the future was brighter. Their hopes were dashed as debt payments, large amounts for these small businesses, were thrown into doubt when Paper Source filed for bankruptcy.
Adding insult to injury, Paper Source offered to designate certain network suppliers with critical supplier status, which would allow immediate payment to chosen card manufacturers for products delivered before the filing date. The alternative is for card manufacturers to wait for the process to unfold and receive payments, possibly pennies on the dollar, on equal footing with all unsecured creditors. The catch with the offer to be considered a critical supplier was that the payment would be between 10% and 30% of the amount owed, accompanied by a promise from the card manufacturer that it would continue to supply products to stores for which he would receive 100% payment, in accordance with the bankruptcy rules.
Paper Source's Chapter 11 filing was preceded by the bankruptcy of Schurman Fine Papers in January 2020, which closed Schurman's 254 stores, which included retail chains Papyrus, American Greetings and Carlton Card. Paper Source has taken over 30 of the closed Papyrus stores, announced on March 2, 2020, exactly one year to the day before its own bankruptcy, just in time for retail stores that sell cards, gifts and other discretionary items to be affected by the COVID-19 epidemic. In defensive statements to the network of women-owned card makers, Paper Source's CEO stressed the need to replenish inventory that had been depleted at the start of the pandemic, including the need to restock acquired Papyrus stores.
Regardless of how the Paper Source bankruptcy plays out, we suspect credit policies are out of date at many micro-businesses that supply the greeting card industry. Extra care and thought will be employed when a large and unexpected gift horse in the form of an inordinately large order comes over the transom. As for Paper Source, once again a big company is being taken to task by its constituents using the power of social media, this time by a network of small, women-owned print shops dedicated to keeping the tradition of fine letterpress printing alive. .
Packaging
It would be an understatement to say that packaging deals dominate the M&A market in the printing and related industries. Shoreview Industries exited its investment in Rohrer Corporation after an 11-year holding period, with Wellspring Capital Management taking over the company. The sale is the culmination of a classic private equity strategy: recapitalizing a family business to establish a platform in a fragmented industry, consolidating several acquisitions to expand the business to multiple manufacturing plants, recruiting new executives and increase income. Rohrer grew under Shoreview's leadership to seven manufacturing plants and revenues grew from $67 million to over $200 million. Rohrer produces a wide range of printed and thermoformed carton packaging, with expertise in blister cards and folding cartons, serving a wide variety of consumer product companies.
SupremeX, the Canadian envelope and packaging company based in LaSalle, Quebec, has acquired Vista Graphic Communications.* Vista, based in Indianapolis, is a manufacturer of folding cartons and specialty microflute packaging solutions, serving primarily the medical and dental markets. SupremeX was established as an envelope printing business in 1977, was acquired by Cenveo (born Mail-Well) in 1995, then spun off from Cenveo in 2006 in a public offering to the Toronto Stock Exchange. With several envelope business acquisitions under its belt, the company strategically added packaging to its offering with the 2017 acquisition of folding carton company Stuart Packaging, located in Mount Royal, Quebec. The 2018 purchase of G2 Printing in 2018, also in Quebec, brought labels and additional folding carton capacity into SupremeX's mix.
Resource Label Group, the serial acquirer of label printing companies, announced another acquisition, the purchase of New England Label in Andover, Mass. Resource Label, headquartered in Franklin, Tennessee, with financial backing from First Atlantic Capital and TPG Growth, has grown to 18 manufacturing sites across the United States and Canada. The most recently acquired company's capabilities include screen printing for manufacturing nameplates and graphic overlays.
Fort Dearborn, a competitive packaging industry rollup with financial backing from Advent International, announced the acquisition of Hammer Packaging with two plants in the Rochester, NY area. The sale ends family ownership of Hammer which spans four generations. Hammer's extensive capabilities include cut and stack, in-mold, pressure-sensitive, roll-fed, shrink and stretch labels, and flexible packaging. The agreement increases Fort Dearborn's footprint to nineteen manufacturing facilities across North America. Advent International is the second private equity fund to back Fort Dearborn, acquired from KRH Capital in August 2016.
Dunes Point Capital, a new entrant in the EP-backed frenzy to consolidate the label industry, has announced the creation of Premium Label & Packaging as a platform entity. Simultaneously with the announcement, Premium has acquired Label Graphics Manufacturing, a label and shrink sleeve company based in Little Falls, NJ, with a second facility near Fairfield, NJ Dunes Point also owns Overnight Labels, a manufacturer of pressure sensitive labels, shrink sleeves and flexible packaging located in Deer Park, NY
Do-It Corporation, which according to the company's website is the world's largest producer of plastic tabs, has acquired Tower Tab & Label. Located in South Haven, Michigan, Do-it manufactures a wide variety of specialty devices and marketing materials, all focused on retail display. In addition to its ubiquitous clear plastic hanger tabs used to hang products on retail pegboard hooks, products offered include custom printed hanger tabs, bottle neck hangers, carry handles, retail display pendants and document holders.
US-based companies were also active internationally. Multi-Color Corporation took over Herrods, a molded label company in Australia. ProAmpac announced the acquisition of two UK-based companies, IG Industries, a film extrusion company, and Brayford Plastics, an integrated bag manufacturer serving the bakery, fresh produce, meat, poultry and fish.
Commercial Printing and Diversified Services
The Imagine Group (born Imagine! Print Solutions), a Minneapolis-based display and commercial printing company, has been purchased by an investment group led by Cerberus Capital Management. Focused on point-of-sale displays and related design services, Imagine has made several acquisitions, beginning with the 2013 purchase of Classic Graphics in Charlotte, North Carolina. Imagine was itself acquired by private equity fund Oak Hill Capital Partners in January 2016, and later that year bought Midnight Oil, a creative agency based in Burbank, Calif. Over the past pandemic year, Imagine's revenue has fallen from $471 million to $419 million, leading the company to recapitalize. The company reports that the recapitalization reduced debt from $550 million to $100 million, positioning the company to regain its footing and return to growth mode.
Grossman Marketing Group, a Boston-area company, has acquired PCI Creative,** a marketing, print and mailing company in Stamford, Connecticut. The Grossman company dates back to its founding in 1910 as the Massachusetts Envelope Company. Through a series of acquisitions and name changes over the past century, and now under the leadership of the fourth generation, the company has grown into a full-service marketing provider. Services include fulfillment, graphic design, direct mail, printing and promotional products, serving a wide range of clients including education, finance and healthcare. The acquisition of PCI Creative supports Grossman Marketing's strategic goal of expanding its geographic footprint, thereby strengthening its position in the Connecticut market.
* Graphic Arts Advisors, publisher of The target reportserved as exclusive advisors to Vista Graphic Communications in this transaction.
** Graphic Arts Advisors, publisher of The target reportserved as exclusive advisors to PCI Creative in this transaction.
View the target report online, with transaction logs and source links for March 2021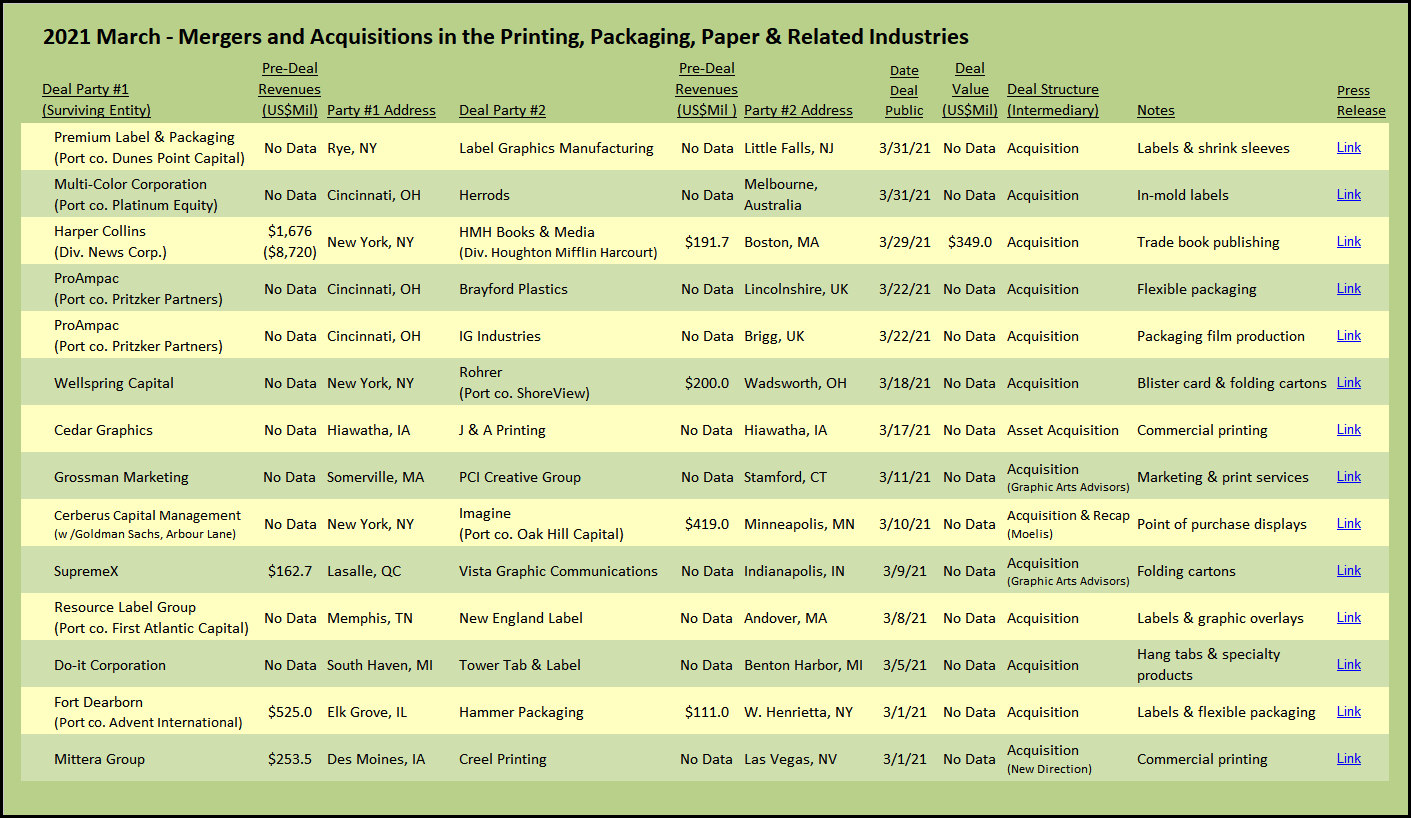 www.graphicartsadvisors.com