I couldn't wait. We were going to do our annual hike to Northern Michigan from Florida for the summer. I just took delivery of a brand new 2022 Chrysler Pacifica Hybrid, and I couldn't wait to hit the road. It was less than 200 miles when we started our trip at 4:30am on a Saturday. We like to travel on I-75 on the weekends. This allows us to avoid much of the truck traffic that uses this busy stretch of highway.
I wanted to see how efficiently the Pacifica would move in all-electric and then hybrid mode on this trip. I had gotten used to charging the Pacifica with the EV cable that came with the vehicle. This Type 1 charger plugs into a standard electrical outlet in the garage and then into the EV port forward on the driver's side of the van. A full charge takes 14 hours to accomplish. Once charged, it travels only about thirty kilometers until the batteries are exhausted and the engine is engaged more or less full time.
However, how would this vehicle's system perform on an 1800 mile open road trip? We would see soon.
Wait… That hybrid thing isn't in the owner's manual??
I wanted to know more about how the hybrid works, so I ripped the cellophane from the owner's manual and a bunch of other flyers and brochures stacked in the glove box. However, the Pacifica Hybrid is so new that there is a special owner's manual supplement for hybrid operations. So I consulted him but wanted to know more.
So my last job at Chrysler, I supported the great people at Mopar with their website. I was wondering if more information was available. So I logged in mopar.com. I clicked on My Garage and saw that my new Pacifica was already registered with the Mopar Owners to place. This was fortuitous because in the My Garage section, under the photo of my Pacifica, there were several videos and other information about the hybrid system I was looking for.
A set of three short videos describes Chrysler Pacifica Hybrid operations; Charging your vehicle, dashboard charging status and instrument cluster display.
2002 Chrysler Pacifica Hybrid Videos
Once registered on the mopar.com owner's site, you can access over 36 videos covering specific areas in the owner's manual. They are really worth the detour. Besides the hybrid videos, I would recommend watching the Adaptive cruise control and the Parksense/ParkView videos. The three videos dealing with a hybrid system are shown below.
How to Charge Your 2022 Chrysler Pacifica
Dashboard charging status
Instrument cluster display
The journey to Michigan begins
We like to do most of the mileage from Florida to Michigan on day one. So we got up incredibly early, at 4am, and started going in the dark. My goal was to get to the state line and Valdosta, GA around 8am. But, as I expected, the battery charge lasted until we were roughly parallel to Tampa on I-75, and then the engine engaged. So we fueled up and changed drivers in Valdosta, GA, then headed north through a powerful thunderstorm.
Midday stop for lunch and Pacifica hybrid electric charging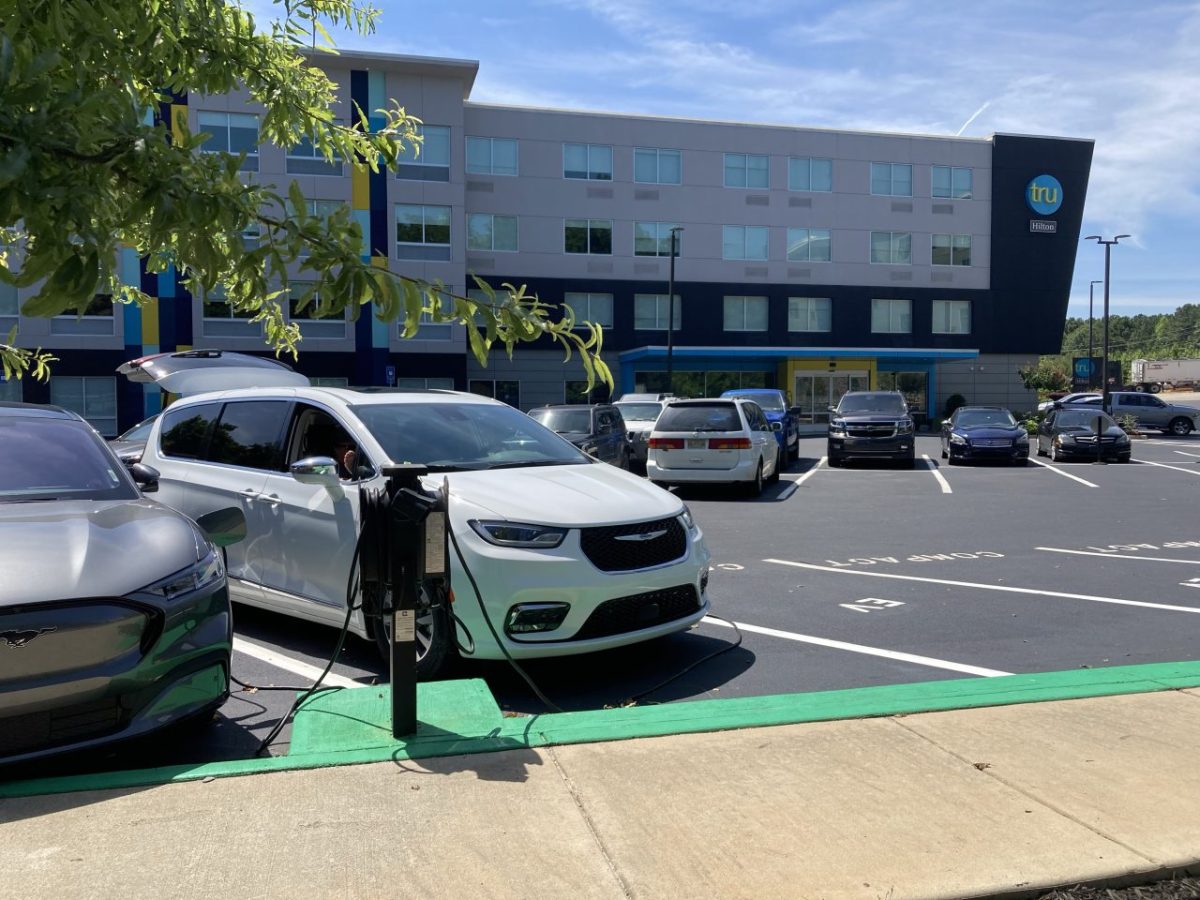 We continued north and the trip was uneventful. We decided to stop for a picnic just south of Atlanta in the town of McDonough. I downloaded a mobile app called Plugshare. It displays all available EV charging stations on a map that you can easily zoom in and get details. I saw an EV charging station at the hotel called Tru by Hilton.
The charging station was a combination of four stations for Teslas and two stations with the Type 2 – J1772 socket which would fit my Chrysler Pacifica hybrid. We pulled into the parking lot behind the TRU hotel and hooked up while we had a picnic under the trees. Unfortunately we only stopped for half an hour and therefore only got a charge for about 11 miles. What I learned was that even with a higher speed type 2 EV charger, if we weren't going to make the time for at least an hour or more, it probably wasn't worth stop and do everything we can to charge such a short time. Lesson learned.
The pleasure of adaptive cruise control with the Pacifica hybrid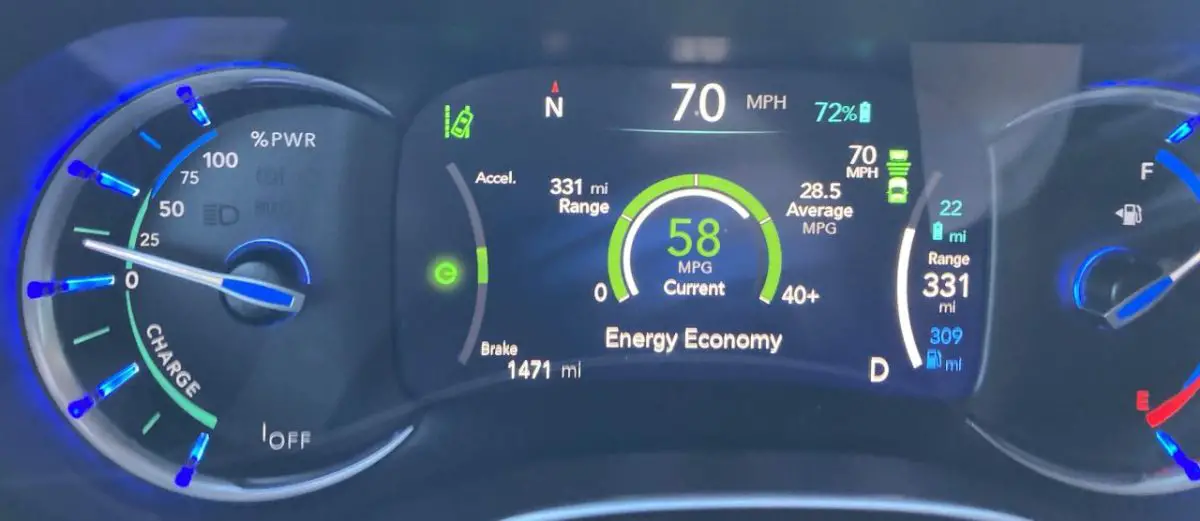 Even with the battery completely drained after 30 miles, the hybrid aspect of the Pacifica is starting to kick in. The hybrid system will recharge the batteries when you brake and coast. In fact, on the left side of the dash, you'll see an analog gauge that goes down when this load occurs.
I've found that when you're on adaptive cruise control and following a vehicle, these charging events will occur with some regularity. As the adaptive cruise control tries to match the speed of the car ahead, it stops and stops with some frequency. Therefore, there is a trickle charge of the batteries, which wears out on the powertrain from time to time.
We were only 100% electric for about 90 miles on our two day trip. However, the hybrid system generated power capability for an additional one hundred and ten miles. This equates to approximately 7 gallons of gas saved during the trip. Also, gas prices this weekend were around $5.49, or $36.83 saved in gas for this trip alone.
A missed opportunity with a new feature on the Chrysler Pacifica hybrid called MaxGen.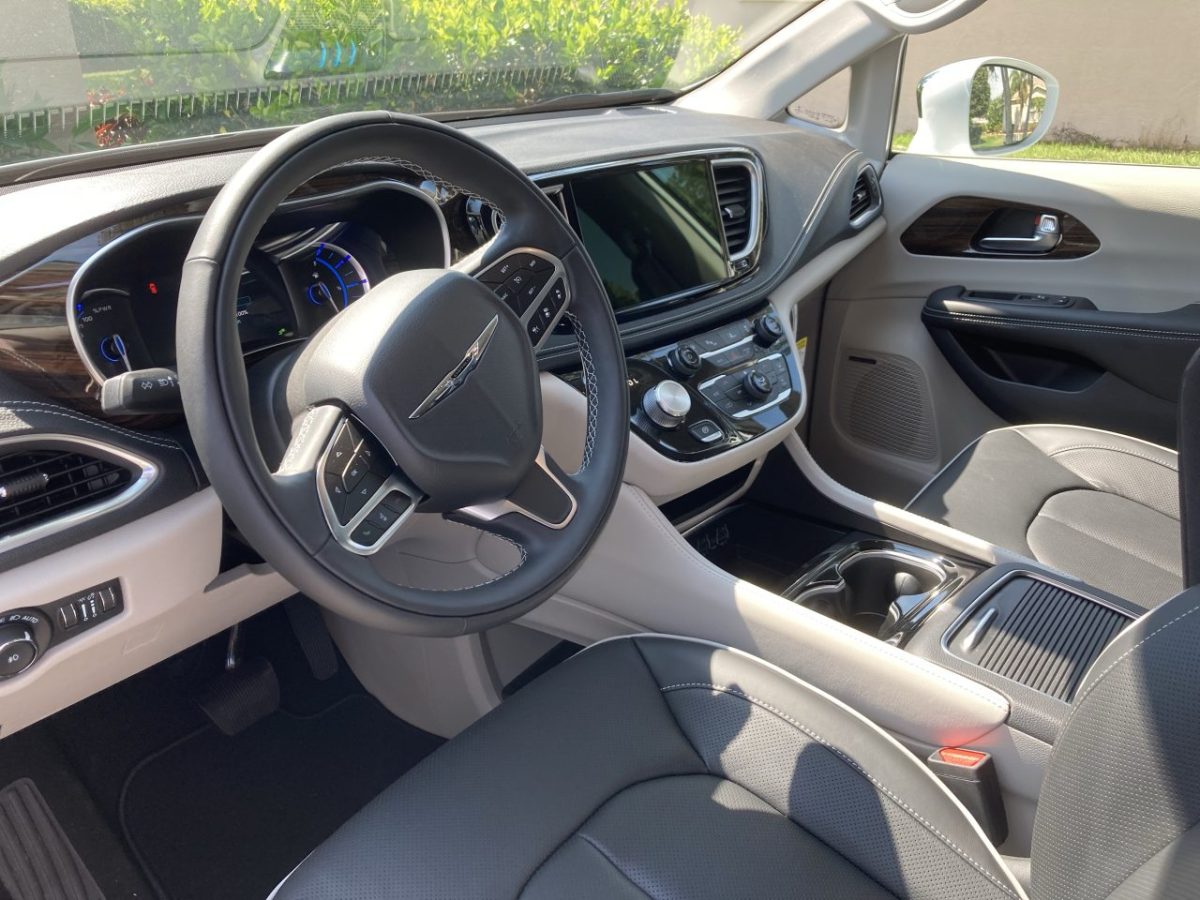 I found out later that I might have missed an opportunity. While in Atlanta, near Louisville, approaching Cincinnati, we drove at low speed for a while in traffic. There's a new feature in a 2022 Chrysler Pacifica Hybrid called Max Regeneration. The maximum regeneration symbol appears in the upper right corner of the instrument cluster display when driving at maximum efficiency.
I called Chrysler customer service to get more information about this new feature; however, the customer representative was unaware and they had to refer the matter to engineering. Finally, they promised to send me information about this feature. If and when that happens, I'll update this article with it.
Spending the night in Georgetown, Kentucky – Yes! Found an EV charging station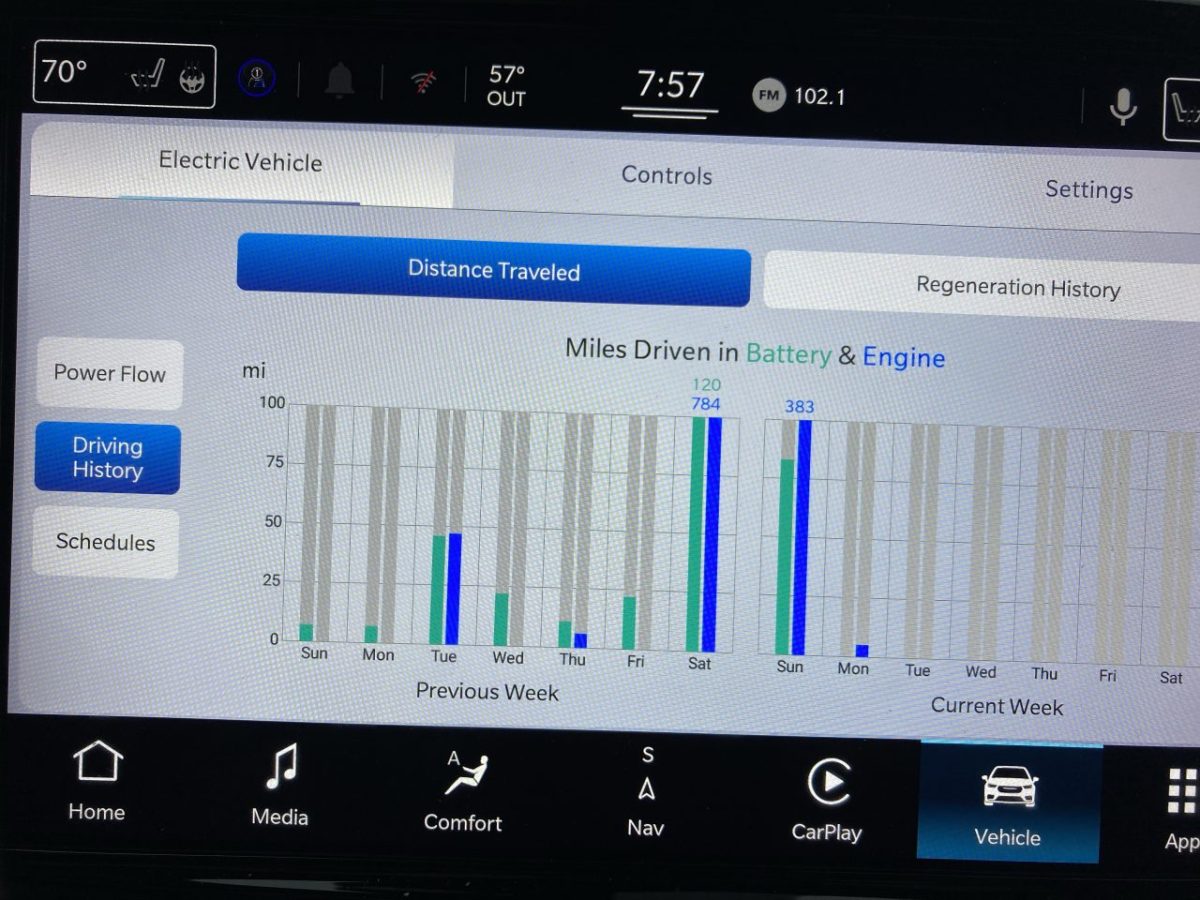 We spent the night just north of Lexington, Kentucky in Georgetown. It's a pretty big little town. There is a Toyota factory that makes Corollas and many hotels around the exit. However, I was surprised that there were very few EV charging stations nearby.
I searched the Plugshare mobile app and found a bank of electric vehicle charging stations at a nearby Marathon gas station, a short walk from our hotel. So early in the morning, before we planned to leave, I took the Pacifica to figure out what it would take to use that charging station.
These stations were set up using ChargePoint. I had to download their mobile app. I went ahead and linked my credit card using an Apple wallet. Once this was set up, I was able to make the charging station operational, and presto, it was free!
I returned to the hotel, had breakfast and packed my bags, and the Pacifica was recharged in just over 2 hours. However, based on my app display and the charging station, I found that it needed 13.4 kilowatt hours. So I'll keep that in mind.
On the way to Ann Arbor, lunch and other load
Our last stop before leaving for Caseville was Ann Arbor. We will meet friends and have lunch. I was lucky to find it, but there was another ChargePoint EV station in our friend's apartment complex. Using the app I downloaded that morning, I quickly plugged the Pacifica in and charged it while we ate lunch. However, this one charges me a total of fifty dollars.
Top 5 things I learned on this ride with my 2022 Chrysler Pacifica Hybrid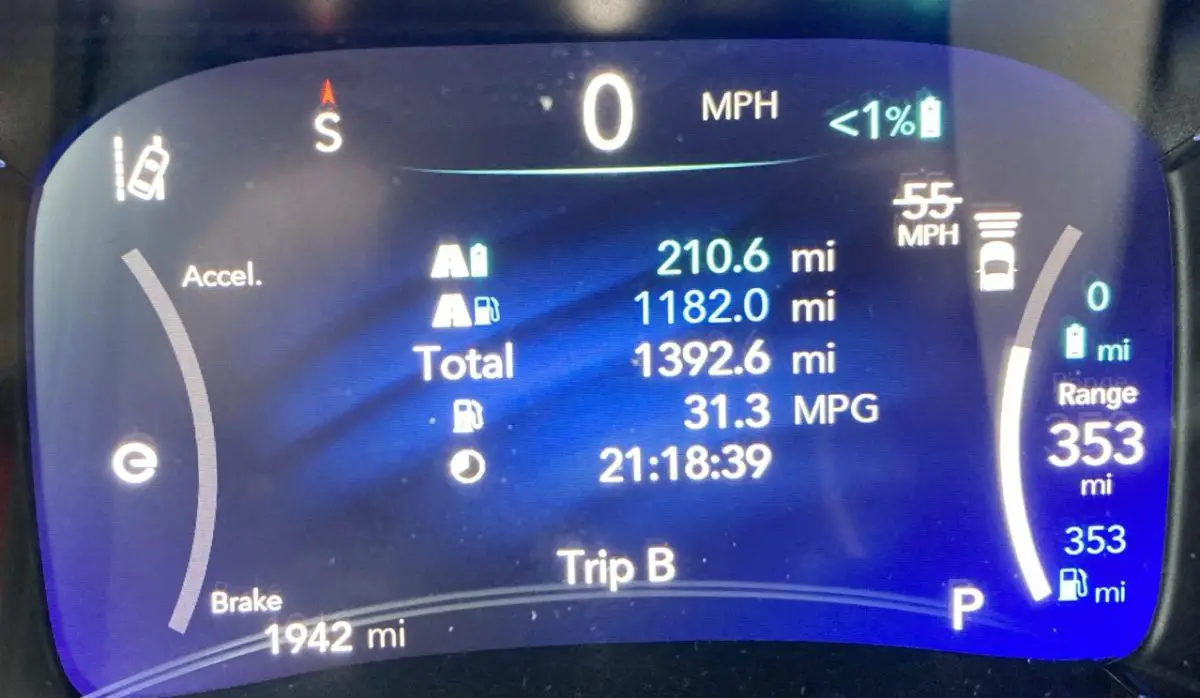 #1 – Recharge fully if you can before the start of each day
#2 – If you're going to stop and you don't have at least two hours, it's probably not worth trying to reload.
#3 – Use adaptive cruise control whenever possible, this makes use of the vehicle's regenerative charging capability, which will save you extra miles during your trip.
#4 – Although many charging stations are free, some charge between $0.50 and $1.00 per hour. In some cities, it's less than the cost of a parking meter or garage.
#4 – In slow-speed stop-and-go traffic, shifting your transmission from Drive to Low will invoke the Max Regeneration feature. This will quickly recharge your batteries; however, I was unable to test this.
Related Reading on the Chrysler Pacifica Hybrid
EV Charging Stations for Hybrid and Electric Vehicles Arrive at Michigan's Thumb
Offshore Vs. Onshore Wind Farms – 20 Points On Which Is Better